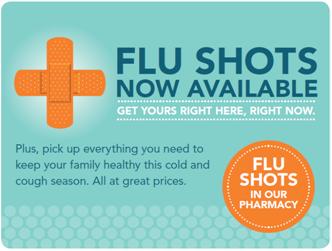 Our Hours
Please come in and see us during the following hours:

Open Monday through Friday

8:00 a.m. - 6:00 p.m.
Saturday

8:00 a.m. - 3:00 p.m.
Sunday - Closed
Address: 106 Parks Ave
Scottsboro, AL 35768
Telephone: (256) 574 - 5520
FAX: (256) 259 - 5311
E-mail: BigC@BigCScottsboro.com
Big "C" Skyline Address:
21549 Alabama Hwy 79
Scottsboro, AL 35768

In Case Of Emergency:
Dexter's Home: (256) 259-3233
Jeff's Home: (256) 574-3143
Welcome! Come on in and let me tell you a little bit about us.
Big 'C' Drugs began on the east side of the Square in 1971. It moved to its current location, 106 Parks Avenue, in 1973 and it currently co-owned by Dexter Cordes and Jeff Stewart. Big 'C' Drugs is very patient and community oriented. We offer a unique and varied array of products, services, and counseling in an effort to better serve the overall needs of our patients. Some of these include: state of the art pharmacy to handle all of your prescription needs, compound specialist for customized medications, diabetic supplies, and medications for nebulizers. As a Medicare Accredited Pharmacy, we also offer expert and individual counseling in such areas as: Medicare Billing and Rights, medications,diabetic monitoring, blood pressure monitoring, and Medicare-D plans. Besides prescription medications and over the counter medications, Big 'C' also has a staff ready to help you with last minute items such as greeting cards,educational toys, WebKinz@, seasonal items, and gifts.
Big 'C' has 5 Registered Pharmacists on staff- Dexter Cordes, Jeff Stewart, David Sparks, Brandon Porter, and Steve Crawford, 3 Certified Pharmacy Techs- Carol Shelton, Jennifer McCamy, and Kira Gamble, and 3 Registered Pharmacy Techs-Heather Barron, Gina Stewart, and Jeanine Arnold to fill all of your Pharmacy needs. Our Pharmacist and staff are readily available to answer questions you have concerning your medications and will gladly take the time discuss or show you how to use the medications or supplies prescribed by your doctor. We are committed to meeting the needs of our patients and strive to provide personalized attention to each customer.
One of the ways that Big 'C' Drugs offers more personalized attention to their customers is through our compounding. Compounding is the ability to prepare unique, otherwise unavailable, and more palatable dosage forms of medications. In our compounding lab, the pharmacist can customize medications to suit the patients needs. All compounding requests come from doctors and it is essentially a triad-doctor, patient and pharmacist.
Big 'C' continues to move forward with technology as well as staying abreast of the latest medical pharmaceutical breakthroughs. For the highly technical patient, Big 'C' now offers a new updated and more user friendly Refill Rx. Refill Rx is a website dedicated to providing you access to "your" pharmacy via the Internet. With Refill Rx, you are able to perform functions such as submit refill requests, learn the status of your prescriptions, view and print patient education leaflets, as well as obtain valuable store coupons.
Perhaps you or your spouse qualifies for Medicare-D coverage, but you do not know which plan will be best for you. Big 'C' can help you make these types of decisions easy for you. We have insurance specialists that will assist you in choosing the right plan.
The latest technology is taking Big "C" Discount Drugs back to the good old corner drug store days, when pharmacists had time for personalized service and counseling. The pharmacy staff of Big "C" Discount Drugs is now using the SP 200 Robotic Prescription Dispensing System from ScriptPro. The SP 200 has many safety features that ensure accurate medication dispensing.
The SP 200 performs the time consuming and tedious tasks of counting pills, filling vials and labeling prescriptions, using advanced robotics and automation. With ScriptPro automation, pharmacists have more time to answer questions and counsel their customers.
How does the robot work? Once a prescription is entered into a pharmacy computer system, the robotic arm of the SP 200 determines the correct size vial, then finds the specified drug. Using bar code scanning, it verifies the location of the drug. The robotic arm holds the vial and counts the pills as they are automatically dropped into the vial. The arm then places the vial on a short conveyer belt and the patient label is applied, complete with medication warning labels.
Bar code scanning is used throughout the system to assure that the correct drug is given to the patient. The pharmacist makes the final check for accuracy, comparing the pills in the vial with a computer screen image of the drug.
Pharmacists are pleased to have the SP 200 on staff. It never calls in sick or takes a vacation. The system counts and fills up to 100 prescriptions per hour, so customers get their medications promptly, even during peak pharmacy hours.
ScriptPro, located in Mission, Kansas, has installed thousands of these automated prescription dispensing systems worldwide.
REGISTER
register online with us and authenticate your pharmacy refill account. register now »
REVIEW
review your prescriptions, research drug information and see how long your prescriptions are valid for.
REFILL
send in your request online. save time and have your prescriptions ready when you arrive.
SECURE
All your prescription and profile information is delivered through security standard 128bit encryption.